B7P CHARACTER EDUCATION
Be: Peaceful, Positive, Patient, Proud, Proactive, Prompt, and a Partner

"We must remember that intelligence is not enough. Intelligence plus character – that is the goal of true education." - Martin Luther King Jr.


The underlying principle of character education is to develop students socially, ethically and academically by instilling character development into every aspect of the school culture and curriculum. Character education is as important as academics; the social, ethical and emotional development of young people is just as significant as their academic development.

The B7P program hopes that pro-social behaviors such as being Peaceful, Positive, Patient, Proud, Proactive, Prompt, and a Partner will replace negative behaviors such as aggression, violence, disrespect, apathy and underachievement. This program is not a "quick fix", but it can provide long-term solutions that address ethical, moral and academic issues of growing concern to our society. Strong character is not formed automatically; it is developed over time through a continuous process, or what we call STAR. Being a 7P STAR is Showing (role model) others what strong character looks like. Teaching others about the 7Ps of strong character. Being an Advocate and helping others reach their goals. Finally, Recognizing others when they display deeds of desirable character. B7P is more than a philosophy, but includes lessons, activities and expectations to be done school wide or in an individual classroom. The intentional teaching of good character is particularly important in today's society since our youth face many opportunities and dangers unknown to earlier generations. They are inundated with many more negative influences through the media and other external sources prevalent in today's culture.

Studies show that children spend only 38.5 minutes a week (33.4 hours a year) in meaningful conversation with their parents, while they spend 1,500 hours watching television (American Family Research Council). Since children spend roughly 900 hours a year in school, it is imperative that schools resume a proactive role in assisting students, families and communities by developing caring, respectful environments where students learn core, ethical values in conjunction with ever increasing state academic standards. In order to create good character in young people, we must first start with ourselves and from there be intentional, proactive and comprehensive in our work to develop an environment that breaths strong moral conduct.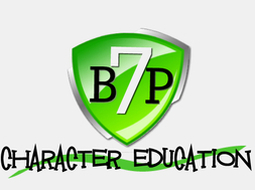 B7P Character Education is filled with hundreds of Words of Wisdom quotes based on the seven Ps, rule cards, expectation cards, and character cards. Transform your classroom from a room of rules, to a world of expectations that can be carried out beyond the four walls of your room by your students. Students learn how to be patient, peaceful, positive, proactive, prompt, proud, and how to be a partner. B7P Character Cards allow you the opportunity to focus on the positive things going on at your school and in your classroom.




---
The Untangle Game is a fun way to introduce the concept of Being Patient. This two page download gives the rules of how to play and some questions for after the activity.
---
Crumpled Peace is based on an activity done by a teacher in New York. This two page download has two very powerful activities stressing the importance of Being Peaceful.
---